On the afternoon of Thursday 12th August 2010, the Ireland Palestine Solidarity Campaign (IPSC) officially launched the historic "Irish artists' pledge to boycott Israel" at a lunchtime concert in Meeting House Square in Dublin. Present at the launch were 20 of the pledge's current 150 signatories, including musicians Damien Dempsey, Donal Lunny and Eoin Dillon (Kíla), artists Robert Ballagh and Felim Egan, playwright Jimmy Murphy and actress Neilí Conroy as well as a crowd of supporters.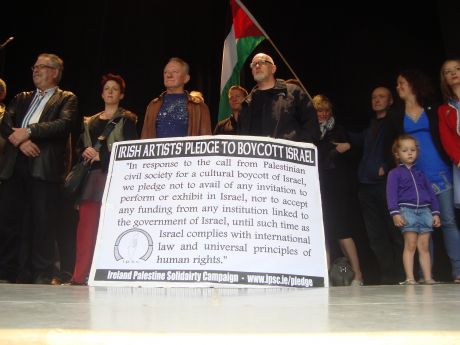 The pledge, described by the Palestinian Campaign for the Academic and Cultural Boycott of Israel (PACBI) as "a ground-breaking initiative", has now been signed by over 150 Irish creative and performing artists including Christy Moore, Andy Irvine, Seamus Deane, Sinéad Cusack, Jimmy MacCarthy, Margaretta Darcy and Conor Kostick. It commits signatories to boycotting the Israeli state under it respects international law, and reads as follows:


"In response to the call from Palestinian civil society for a cultural boycott of Israel, we pledge not to avail of any invitation to perform or exhibit in Israel, nor to accept any funding from any institution linked to the government of Israel, until such time as Israel complies with international law and universal principles of human rights."
Speaking about his support for the pledge, Kíla's uilleann piper Eoin Dillon who, along with jazz guitarist Sami Moukaddem, played his brand new song Rachel Corrie, said: "I encourage all Irish artists to take this pledge and thereby honour not only their own dignity but more importantly, the dignity of the Palestinian people." Eoin's brother Shane was kidnapped by Israeli commandos on May 31st this year when he was first mate on board the Challenger 1 which was part of the Gaza Freedom Flotilla.
Damien Dempsey signs the Pledge

The concert also saw performances by Sami Moukaddem, Naisrín and Zahrah Elsafty (who preformed the Palestinian song La Ahada Yalem), and Treasa Ní Cheannabháin who along with her daughters performed her own song An dTiocfása Liomsa (Amhrán Ghaza).


IPSC Cultural Boycott Officer and coordinator of the pledge Dr. Raymond Deane, himself a renowned classical composer, said: "These artists are aware of the Israeli Foreign Ministry's statement in 2005 that "We see culture as a propaganda tool of the first rank, and ... do not differentiate between propaganda and culture." These artists refuse to allow their art to be exploited by an apartheid state that disregards international law and universal principles of human rights, but look forward to the day when normal cultural relations can be re-established with an Israel that fully complies with such laws and principles."

Dr. Deane continued: "Culture cannot stand aloof from politics. Whether or not art is 'above politics', its presentation and representation in the real world can all too easily be hijacked by oppressive states. With this pledge, Irish artists have an opportunity to distance themselves from such exploitation, and to take a non-violent stand on behalf of the oppressed Palestinian people. Indeed, we have set an example here today that will be followed in every part of the world by thousands of artists who will refuse to allow themselves to be used as propaganda tools by the Israeli apartheid state."

Wrapping up the concert, IPSC National Chairperson Freda Hughes thanked all those who have thus far signed the pledge, and said: "All of these artists have shown they are people of principle and conviction. Of course, one does not have to be an artist to take a stand against Israeli apartheid. Every single one of us can aid the Palestinian people in their struggle for human, civil, political and national rights by getting involved in the international Boycott, Divestment and Sanctions (BDS) campaign against Israel. BDS is a campaign of which this pledge is one important facet, but there are many more avenues that people from all walks of life can get involved in, from consumer and academic boycotts to pressuring the government to take meaningful action. This is what Palestinian civil society has asked us to do, and the Ireland Palestine Solidarity Campaign is proud to have been at the forefront of this campaign since the BDS call went out in 2005."
A full – and regularly updated - list of the signatories to the boycott pledge can be viewed online at http://www.ipsc.ie/pledge
- If you are an Irish artist or an artist based in Ireland and would like to add your signature, please contact culturalboycott [at] ipsc.ie
The full PACBI statement of endorsement can be read at
http://ipsc.ie/pledge/#2
This launch comes two weeks to the day after the IPSC handed in over 6,000 signatures calling for Dunnes Stores to refuse to stock Israeli products at the head office of Dunnes - report here:
http://www.indymedia.ie/article/97316
This article originally appeared on Indymedia and can be viewed here