The transformation of Latin America is a global advance
August 20 2010
Reformed Venezuelan Bank Law Separates Banks and Media
Yesterday, in an extraordinary sitting, the National Assembly passed a reform to the Bank Law which affirms that media owners and stock holders cannot manage banks. The law also slightly changed what institutions the law applies to so that the Sovereign People's Bank (BPS) can be more accessible to communities. In a related matter, the National Assembly approved the nationalisation of an insurance company.
Previously, the BPS was regulated by its own internal rules; now it will come under Sudeban (the Superintendency of Banks and other Financial Institutions), will be incorporated into the National Financial System and will provide "socialised" banking where organised communities and individuals in communities can deposit, save, withdraw, and borrow from the bank, which will have "communal bank terminals" operated by locals.
The Chavez government founded the BPS in October 1999 as a bank that provided non-financial services such as training and micro financing to communities, small family companies and cooperatives, as part of a strategy to fight poverty.
Read full story
here
August 20 2010
Palestine: One Journalist Injured; 2 Activists Arrested During Weekly Protests
The Israeli military attacked the weekly anti wall protest in the central West Bank village of Bil'in.

Villagers along with international and Israeli supporters marched on Friday midday from the village to the wall gate that separate villagers from their land.



People demanded the prosecution of Eden Abergil, an Israeli soldier that published on facebook photos of her abusing Palestinian detainees.

As soon as the protest reached the gate of the wall Israeli troops stationed there

fired sound and tear gas bombs at the unarmed civilians.



Read full story
here
August 20 2010
Palestinian Female Prisoners and the Struggle for Freedom
TUC calls for Barclays to come clean on Burma
Brendan Barber
said:
'It's a disgrace that Barclays has been violating US sanctions and doing business in Burma. Foreign financial services are helping Burmese generals to loot the country's natural wealth and to fund a military accused of committing horrendous crimes against humanity.
'Barclays must come completely clean on whether it has been a part of this, or no amount of London Cycle Hire schemes can save its reputation.
'It is a cause for concern that it took the US sanctions system to discover the shameful activities of a British bank. The UK and the EU urgently need to fix our weak rules. We need to put in place US-style financial sanctions and a rigorous monitoring system to prevent these sorts of scandals from happening again.'
August 20 2010
Gaza Harbour
Over the past ten years, the Israeli military has gradually expanded restrictions on access to farmland on the Gaza side of the 1949 'Green Line', and to fishing areas along the Gaza Strip coast, with the stated intention of preventing attacks on Israel by Palestinian armed factions, the United Nation's Humanitarian affairs office, OCHA, reported on Thursday.
This study aims at assessing the scope of these restrictions, as well as their impact on physical security, livelihood and access to services. The information and analysis presented is based on over 100 interviews and focus group discussions carried out during March-April 2010, and complemented with analysis of quantitative data available from other sources.
Since late 2008, Palestinians have been totally or partially prevented from accessing land located up to 1,000-1,500 meters from the Green Line (depending on the specific area), and sea areas beyond 3 nautical miles from shore. Overall, the land restricted area is estimated at 17 percent of the total land mass of the Gaza Strip and 35 percent of its agricultural land. At sea, fishermen are totally prevented from accessing some 85 percent of the maritime areas they are entitled to access according to the Oslo Agreements.
An estimated 178,000 people - 12 percent of the population of the Gaza Strip - are directly affected by the access regime implemented by the Israeli military. This includes approximately 113,000 people affected by such measures in land areas, and 65,000 people affected by restrictions to maritime areas.
Access restrictions are primarily enforced by opening live fire on people entering the restricted areas. While in most cases it is 'warning shots' that force people from the area, since the end of the "Cast Lead" offensive in January 2009, the Israeli army has also killed a total of 22 civilians and injured another 146 in these circumstances. Despite the potential for civilian casualties, the Israeli authorities have not informed the affected population about the precise boundaries of the restricted areas and the conditions under which access to these areas may be permitted or denied.
Additional risks to the affected population stem from military activities of Palestinian armed factions in the restricted areas and their confrontations with the Israeli military. Since the end of the "Cast Lead" offensive 41 Palestinian militants and four Israeli soldiers were killed in the restricted area or its vicinity in these circumstances and another 26 Palestinian militants and ten Israeli soldiers were injured.
August 20 2010
Colombian policeman admits 'manipulating' FARC laptop
Aftermath of Colombia's bombing of neighbouring Ecuador
A Colombian police investigator has admitted to tampering with data on the laptop computer used as evidence against two of the country's highest profile political prisoners.
Ronald Coy, a police captain in the investigations branch of the national police, confirmed to the prosecutor in the trial of Liliany Obando that he had, according to the prosecutor's question, "opened the information and manipulated it before it was submitted to the legal authorities". Ms Obando's defence lawyer is now pressed for the evidence to be ruled inadmissible.
Liliany Obando was arrested in August 2008 and accused of links to the Revolutionary Armed Forces of Colombia (FARC) guerrillas, after the authorities announced they had discovered evidence incriminating her and other critics of the government on a laptop belonging to senior FARC official Raul Reyes. The computer was seized in a Colombian military raid on a FARC camp in Ecuador in March 2008, during which Reyes was killed.
August 20 2010
Santhal militants take to Maoism
Maoists in Assam are making rapid inroads among the Santhals, who were brought to the state 200 years ago and coerced into working in tea plantations. Intelligence agencies say the rebels have propped up a relatively new adivasi (tribal) militant outfit called Santhali Tiger Force (STF). The outfit
has begun to spread its influence across five western and northern Assam districts.
The indoctrination and the initiation process are taking place at two camps along the Assam-West Bengal border.
"The STF was formed by the adivasi youth across the tea belt in Kokrajhar and adjoining districts. The outfit has a few seasoned rebels from other outfits, and we have information it is being supported by Maoists," said Kokrajhar district police chief P.K. Dutta.
August 20 2010
India employing Israeli oppression tactics in Kashmir
A Kashmiri protestor raises his fist to Indian forces during a protest
in Srinagar
The 2010 summer in the disputed area of Jammu and Kashmir, administered by India, has been marked by popular protests by Kashmiris and crackdowns by India's military. The stream of violence has left more than fifty dead, mostly young protestors. The situation in Kashmir has some parallels with Israel's occupation of the West Bank and Gaza Strip, even borrowing the term intifada to describe the uprising. But the connection is more than analogy -- Israel's pacification efforts against Palestinians have proven valuable for the Indian police, army and intelligence services in their campaigns to pacify Jammu and Kashmir with numerous Indian military and security imports from Israel leading the way.
India and Israel had a limited relationship prior to 1992. India, as a prominent member of the Non-Aligned Movement (NAM), had helped to form the NAM political positions on Palestine as part of the "struggle against imperialism, colonialism, neo-colonialism, apartheid, racism, including Zionism and all forms of expansionism, foreign occupation and domination and hegemony" (1979, Havana Declaration). Beyond its anti-colonial and Third World solidarity politics, India also had realpolitik reasons for keeping a distance from Israel. The nation had a developing economy with a huge need for petroleum resources, of which it had no domestic source. Good relations with the Arab League and the Soviet Union helped to secure access to resources necessary for India to become the regional and global economic power it aspires to be.
With the beginning of the Oslo negotiations process between Israel and the Palestine Liberation Organization in the mid-1990s and the end of the Cold War, India was free to pursue relations with Israel from a NAM standpoint. An end to the Israeli occupation was assumed a formality under Oslo by most international observers, especially early on -- and had, by that time, gained the economic strength to pursue a policy taking it, as described in a US Army War College (USAWC) analysis, "from a position of nonalignment and noncommitment to having specific strategic interests taking it on a path of 'poly-alignment.'" The report states that India has been in a "scramble to establish 'strategic relationships' with most of the major powers and many of the middle powers," including Israel.
Israel rendered limited military assistance to India in its 1962 war with China and the 1965 and 1971 wars with Pakistan. It was not until after the Oslo process began though, that the limited military contacts developed into a fuller strategic relationship. According to The Bulletin of Atomic Scientists, in 1994 "India requested equipment to guard the de facto Indo-Pakistan Kashmiri border. New Delhi was interested in Israeli fences, which use electronic sensors to track human movements" (Thomas Withington, "Israel and India partner up," January/February 2001, pp.18-19). The remaining years of the decade were peppered with arms sales from Jerusalem to New Delhi, most notably unmanned aerial vehicles (UAVs) and electronic warfare systems.
Read full story here



August 20 2010
Kurdish Rebel, Pleased By Opposition Party, Upset by Kurdish Government's Policy Towards Iran
The militant opposition group of Iran known as PJAK is positive about policies employed by the major Iraqi Kurdish opposition party regarding Iran, considering them a more pan-Kurdist approach.
PJAK, which stands for Party for Free Life of Kurdistan, prefers the approach taken by the opposition party of Gorran (Change) regarding the Kurdish question of Iran to the ones taken by the two ruling parties here in Iraqi Kurdistan.
A spokesperson of PJAK says that Gorran has brought human rights violations committed against the Iranian Kurds to its media spotlight while the two ruling parties has often swept them under the carpet. "We hope Gorran continues these policies and do not make mistakes against my party," said PJAK spokesperson Rezan Javid. "The other political parties have made mistakes against us and the Kurdish people of Eastern [Iranian] Kurdistan," he added.
Nawshirwan Mustafa, former deputy-leader of the party of Iraqi President Jalal Talabani, leads Gorran. His movement has often taken a critical approach against the Kurdistan Regional Government (KRG) since July 2009's elections where it achieved almost one third of the parliament seats. Safin Mala-Qara, a Gorran leader, ruled out having any relations with PJAK but confirmed that his party had refused to listen to a demand of the Iran's consul in Erbil to end broadcasting the shelling of the border villages of Iraqi Kurdistan where Iran says PJAK fighters are based.


Read full story here


August 20 2010
Kashmir: Fresh clashes leave over 30 wounded
About
30 persons were injured, most of them with bullet wounds, as fresh violence broke out in the Kashmir Valley Thursday while one boy, injured last week, died in the hospital today. A young boy, Milat Ahmad, who was injured in paramilitary forces' firing at Harnag Anantnag on August 14, and was later shifted to Sher-e-Kashmir Institute of Medical Sciences (SKIMS) at Soura, died this morning, leading to massive protests in his native village Wanpora and adjoining areas in Kulgam district.
Hundreds of people offered his Nimaz-e-Jinazah which was addressed by Hurriyat (G) chairperson, Syed Ali Geelani in telephone. A police spokesman said protestors pelted stones on a paramilitary patrolling party at Seloo, Sopore, in north Kashmir district of Baramulla this afternoon. Paramilitary troops retaliated with tear smoke-shells which had no impact on the demonstrators who continued stone pelting, police said, adding that the paramilitary forces subsequently fired some non-lethal rubber bullets "in self-defence" in which five persons were injured. Among the injured people, one identified as Farooq Ahmad has been admitted to Bones and Joints Hospital at Barzulla in Srinagar.

Police said a mob also pelted stones on Karvan-e-Aman bus, carrying two Pakistan-administered Kashmir (PaK) guests at Sangrma, causing damage to window-panes of the bus. Meanwhile, people at Jehab Sahib Soura in the city outskirts defied curfew and took to streets in the afternoon, raising anti-India and pro-freedom slogans. The locals alleged that CRPF people had broken window panes of their houses without any provocation.

When the demonstrators were marching towards the main chowk, police and paramilitary forces swung into action and resorted to 'lathicharge' which had no impact. Later teargas shells were also fired to disperse the demonstrators who were pelting stones on nearby roadside bunker, following which a group of paramilitary personnel while chasing away protestors opened fire which left three people including two women injured. While as police spokesman said "security forces opened fire in self-defence after the demonstrators continued stone-pelting on bunker", locals however refuted this claim saying CRPF personnel fired indiscriminately while chasing away protestors.
August 20 2010
A Trip to Prison to See One of the Cuban Five
By DANNY GLOVER and SAUL LANDAU
August 19 2010
Fire in the Hole: How India's economic rise turned an obscure communist revolt into a raging resource war
Indian Maoist Guerilla Training Camp
The richest iron mine in India was guarded by 16 men, armed with Army-issued, self-loading rifles and dressed in camouflage fatigues. Only eight survived the night of Feb. 9, 2006, when a crack team of Maoist insurgents cut the power to the Bailadila mining complex and slipped out of the jungle cover in the moonlight. The guerrillas opened fire on the guards with automatic weapons, overrunning them before they had time to take up defensive positions. They didn't have a chance: The remote outpost was an hour's drive from the nearest major city, and the firefight to defend it only lasted a few minutes.
The guards were protecting not only $80 billion-plus worth of mineral deposits, but also the mine's explosives magazine, which held the ammonium nitrate the miners used to pulverize mountainsides and loosen the iron ore. When the fighting was over and the surviving guards rounded up and gagged, about 2,000 villagers who had been hiding behind the commando vanguard clambered over the fence into the compound and began emptying the magazine. Altogether they carried out 20 tons of explosives on their backs -- enough firepower to fuel a covert insurgency for a decade.
Four and a half years after the attack in the remote Indian state of Chhattisgarh, the blasting materials have spread across the country, repackaged as 10-pound coffee-can bombs stuffed with ball bearings, screws, and chopped-up rebar. In May, one villager's haul vaporized a bus filled with civilians and police. Another destroyed a section of railway later that month, sending a passenger train careening off the tracks into a ravine. Smaller ambushes of police forces on booby-trapped roads happen pretty much every week. Almost all of it, local police told us, can be traced back to that February night.
The Bailadila mine raid was one of India's most profound strategic losses in the country's protracted battle against its Maoist movement, a militant guerrilla force that has been fighting in one incarnation or another in India's rural backwaters for more than 40 years. Over the course of the half-dozen visits we've made to the region during the past several years, we've come to consider the attack on the mine not just one defeat in the long-running war, but a symbolic shift in the conflict: For years, the Maoists had lived in the shadow of India's breakneck modernization. Now they were thriving off it.
Only a decade ago, the rebels -- often, though somewhat inaccurately, called Naxalites after their guerrilla predecessors who first launched the rebellion in the West Bengal village of Naxalbari in 1967 -- seemed to have all but vanished. Their cause of communist revolution looked hopelessly outdated, their ranks depleted. In the years since, however, the Maoists have made an improbable comeback, rooted in the gritty mining country on which India's economic boom relies. A new generation of fighters has retooled the Naxalites' mishmash of Marx, Lenin, and Mao for the 21st century, rebranding their group as the Communist Party of India (Maoist) and railing against what the rebels' spokesman described to us as the "evil consequences by the policies of liberalization, privatization, and globalization."
Although it has gotten little attention outside South Asia, for India this is no longer an isolated outbreak of rural unrest, but a full-fledged guerrilla war. Over the past 10 years, some 10,000 people have died and 150,000 more have been driven permanently from their homes by the fighting. Prime Minister Manmohan Singh told a high-level meeting of state ministers not long after the Bailadila raid that the Maoists are "the single greatest threat to the country's internal security," and in 2009 he launched a military surge dubbed "Operation Green Hunt": a deployment of almost 100,000 new paramilitary troops and police to contain the estimated 7,000 rebels and their 20,000-plus -- according to our research -- part-time supporters. Newspapers run stories almost daily about "successful operations" in which police string up the bodies of suspected militants on bamboo poles and lay out their captured caches of arms and ammunition. Many of the dead are civilians, and the harsh tactics have polarized the country.
Read full story
here
International Transport Federation pass motion in support of Cuba
August 19 2010
Tensions Rise in Greece as Austerity Measures Backfire
There is understandably hysteria on high, with demands that the Wikileaks founder Julian Assange is "hunted down" and "rendered". In Washington, I interviewed a senior Defence Department official and asked, "Can you give a guarantee that the editors of Wikileaks and the editor in chief, who is not American, will not be subjected to the kind of manhunt that we read about in the media?" He replied, "It's not my position to give guarantees on anything". He referred me to the "ongoing criminal investigation" of a US soldier, Bradley Manning, an alleged whistleblower. In a nation that claims its constitution protects truth-tellers, the Obama administration is pursuing and prosecuting more whistleblowers than any of its modern predecessors. A Pentagon document states bluntly that US intelligence intends to "fatally marginalise" Wikileaks. The preferred tactic is smear, with corporate journalists ever ready to play their part.
August 19 2010
Read full story
here
August 18 2010
Palestinian factions reject US/Zionist pressure for direct negotiations
The Popular Front for the Liberation of Palestine joined with Hamas, Islamic Jihad, the DFLP and 7 other Palestinian factions to issue a joint statement in Damascus in opposition to the resumption of negotiations, direct or indirect, with Israel on August 15, 2010. The joint statement, read at a press conference by Comrade Dr. Maher al-Taher, member of the Political Bureau of the Popular Front for the Liberation of Palestine and leader of its branch in exile, warned of "serious repercussions of continuing the policy of concessions and compromises of Palestinian national rights."
The 11 factions, including the PFLP, Hamas, Islamic Jihad, the Democratic Front for the Liberation of Palestine, the General Command and others, met on Sunday in order to discuss the issue of a potential Palestinian Authority return to negotiations and to make it clear that resuming such negotiations under U.S. authority, whether direct or indirect, places the fundamental rights of the Palestinian people as subject to the dictates of the U.S. and Zionism. The factions' statement was issued jointly and read by Comrade Taher; it said that the goal of the U.S. and its strategic ally, the Zionist state, "aims at the liquidation of the national rights of the Palestinian people, while covering up the criminal practices of the occupation in building settlements, Judaizing Jerusalem, and besieging Gaza." The statement went on to say that the occupation intends to create "facts on the ground" whereby the perennial presence of occupation Israeli forces on Palestinian land is legitimized through such negotiations.
Comrade Taher said, "The Zionist/U.S. pressure to conduct direct negotiations is an attempt to provide cover for the U.S. and Israel's aggressive plans for the region." The statement went on to say that "in a time of a growing international movement in solidarity with the Palestinian people and their just cause, and increasing isolation of Israel as a racist state, the U.S. and Israel are insisting on direct negotiations in order to provide a lifeline to lift the isolation of the criminal occupation state."
The statement called for an end to internal division and urged that instead of negotiations, the Palestinian Authority concentrate on building national unity, "and to stop betting on the futile negotiations, and instead adhere to Palestinian national rights and constants and the choice of resistance to liberate the land and end the occupation."
August 18 2010
Palestinian minors held 3 weeks on suspicion of arson
One of the arrested minors, aged 16, with his mother
Palestinian minors suspected of perpetrating even minor crimes against settlers are subject to extreme pressure during detention and interrogation in an effort to extract a confession, the Palestinian branch of Defense for Children International claims.
The group, which represents hundreds of minors in Israeli military courts every year, cites as an example the case of two 16-year-olds from Assira al-Qibalya, near Nablus, who were suspected of setting fire to a field near the settlement of Yitzhar. They were each detained for a total of three weeks, including 10 days in a Shin Bet security service facility in Petah Tikva. Six of those 10 days were spent in isolation. In the end, they were released without charge.
The fire near Yitzhar started on June 2. At 2 A.M. on June 10, the army raided the boys' homes and arrested them. Both were handcuffed, M.M. in front, but F.A. from the back - even though army regulations forbid handcuffing people from the rear. They were blindfolded and taken to a lock-up in Hawara, where they were held for two weeks. At that facility, they said, the food was insufficient and almost inedible, and they were allowed outside for only half an hour a day.
From Hawara, they were taken twice to the army's Salem lock-up, where an interrogator who called himself "Jihad" threatened to torture them with electric shocks unless they confessed, the boys said. F.A. said Jihad also threatened to charge him with illegal possession of a rifle and stone-throwing if he did not confess to the arson.
On June 17, Capt. Gil Elharar of the Salem military court remanded them for another eight days. That hearing was the first time since their arrest that they had seen their parents, though they were not allowed to speak with them.
On June 21, bound hand and foot, the boys were taken to the Shin Bet facility in Petah Tikva. When M.M. told his interrogators that he was at school taking an exam when the fire started, they claimed F.A. had already incriminated him. F.A. in turn was told that people had seen him start the fire.
August 18 2010
Trinidad and Venezuela Sign Border Gas Field Deal
Trinidad and Tobago and Venezuela signed a long-awaited agreement in Caracas on Monday to develop natural gas reserves on their maritime border. The "unitization of reserves" accord gives Venezuela 7.3 trillion cubic feet (TCF) and Trinidad 2.7 TCF of the Loran-Manatee field, which is estimated to hold 10 TCF.
Negotiations on developing the field, which straddles the maritime frontier between the two oil producing neighbors, stalled several times during recent years. Trinidad lies just 7 miles (11 km) from Venezuela's most eastern point but relations between the two Caribbean nations were cool under former premier Patrick Manning, who was replaced by Prime Minister Kamla Persad-Bissessar in May.
"For Trinidad, this means the continuity of their extraordinary plans for natural gas development," Venezuelan Oil Minister Rafael Ramirez told reporters after the signing. "Trinidad has been a pioneer in this sector for our continent, and for Venezuela this means we will be able to have access to the quantities of gas we have on our side," he said.
Unitization of reserves deals are aimed at avoiding and resolving conflicts about how much belongs to each side. Technical teams from both countries had already agreed how to divide the gas reserves ahead of Monday's meeting.
August 17 2010
Palestinian farmers along with international supporters protested on Tuesday the Israeli buffer zone near the town of Biet Hanoun in northern Gaza Strip
The protest started on Tuesday midday; people marched against the buffer zone and in support
of the farmers that Israeli is destroying their lands to create this buffer zone.
Protesters reached about 150 meters away from the security fence and the Eriz border crossing worth Israeli before soldiers opened fire at the people; no injuries were reported.
August 17 2010
The Military bombards Homes In Gaza ; Arrest Civilians From The West Bank
Israeli tanks stationed near the southern Gaza borders shelled on Tuesday Palestinian homes in the town of Abassan near Khan Younis. The shelling targeted a number of homes, the house of Hashem Al Doghma was totally destroyed by the shelling other homes sustained damage. Al Doghma's house was damaged during an Israeli shelling targeting Abassan four months ago.
Also on Tuesday Israeli troops searched and ransacked a number of homes during invasions targeting West Bank communities. During today's invasions Israeli troops arrested eight Palestinian men and took them to unknown locations.
Palestinian sources reported invasions to the cities of Nablus and Jenin, northern west Bank in addition to Hebron in the south.
August 17 2010
Spanish steps towards general strike say two biggest trade union confederations
Spanish steps towards general strike say two biggest trade union confederations.


If you are holidaying in Spain this year you may learn a couple of new words - huelga general. In the coming days and weeks the Spanish for general strike will be splashed across posters and on the lips of thousands of trade union activists who are campaigning in workplaces, the streets and even the beaches for a mass protest on September 29.

The strike, called by the country's two biggest trade union confederations - Comisiones Obreras and Union General de Trabajadores - is against the socialist government's labour market reforms which will make it easier to hire and fire. These are among a raft of reactionary measures, including a 5 per cent cut to public servants' pay and a freeze on pensions, that Prime Minister Jose Luis Rodriguez Zapatero pushed through parliament last month with the aid of conservative regional parties.
August 17 2010
Safety at risk in Mexico offshore industry
The oil spill of Florida in the Gulf of Mexico might not be the last, unions warn.
Lack of trade union freedoms, insurance and health coverage, low wages, poor training and corrupt practices prevail in Mexico's private oil industry, putting lives and the environment at risk.
"Workers hired by private contractors do not have the training for offshore drilling," Ysmael García, interior secretary of the Mexican seafarers' union, OCPNRM said.
August 17 2010
Bangladesh Arrests 21 After Rallies
The police in Bangladesh have arrested three garment industry labor leaders and 18 other people on charges that they organized and participated in violent protests last month.
Garment workers demonstrated July 30 in Dhaka, the capital of Bangladesh and a center of the growing garment industry.
International advocacy groups like Human Rights Watch and the International Labor Rights Forum have criticized the arrests, calling them a tactic for intimidating workers in a powerful industry that supplies Western retailers like Wal-Mart Stores and H&M. The protesters were angry over a recent increase in the minimum wage, calling it inadequate.
The arrests, made over the last several weeks, came after street protests in the Bangladeshi capital, Dhaka, and other hubs of the fast-growing clothing industry. Garment-making, with about three million workers, employs more people than any other industrial segment in Bangladesh, a largely agrarian country of 160 million.
Construction Workers Protest in Cambodia

More than 100 disgruntled workers staged a protest along National Road 2 in Meanchey district's Chak Angre Leu commune yesterday, after local construction firm KC Gecin Enterprises allegedly dismissed 27 employees last week for attempting to form a union.
Chum Yean, 27, who was among the group of workers fired by the company last Friday, said colleagues had demanded they be reinstated immediately.
"
It is an injustice that we were fired. The company discriminated against us because we were planning to set up a union" he said.
The protest lasted into the evening, but participants said 10 commune police officials tore up their banners.
August 17 2010
The Jordan Valley is a microcosm of Israel's colonisation
The Jordan Valley, stretching all the way down the West Bank's eastern side, is a microcosm of Israel's discriminatory policies of colonisation and displacement. For 40 years, settlements have been established, military no-go areas declared, and Palestinians' freedom of movement restricted. There are now 27 colonies in the Jordan Valley – most of them had been established by the late 1970s under Labour governments. There are also nine "unauthorised" outposts. In the 1990s, the size of territory afforded to the settlements increased by 45%.
As we watch yet another bout of periodic, though tempered, enthusiasm about "direct negotiations", Israel is doing as much as possible to determine the Bantustan borders – policies exemplified in the Jordan Valley, a substantial area of the West Bank almost isolated from the rest of the occupied territories. In 2006, B'Tselem noted how the Israeli military "made a distinction between the 'territory of Judea and Samaria' (ie the West Bank) and 'the Jordan Valley', indicating that Israel does not view the two areas as a single territorial unit".
While there are areas of the West Bank which have witnessed the removal of some checkpoints, according to a senior UN official in June, "it hasn't improved at all when it comes to moving towards the east" and the Jordan Valley. Without a special permit, Palestinians who are not registered as Jordan Valley residents are prohibited from crossing the four key checkpoints controlling the area north of Jericho in their private vehicles.
The presence of the valley's Palestinians is a "problem" that Israel approaches with the tools of evacuation orders and bulldozers. Amnesty International, among others, has noticed an intensification of home demolitions and evictions, while B'Tselem sees "the current wave" as "part of Israel's ongoing efforts to remove" Bedouin Palestinians from the Jordan Valley. As Luisa Morgantini, former vice-president of the European parliament, put it recently, "an area cleansed of its inhabitants today is more easily annexed tomorrow".
Venezuelans Mourn Deaths of Top Socialist Party Official Muller Rojas and Pro-Chavez Legislator Tascón












































Alberto Muller Rojas
Luis Tascón

The former vice president of the United Socialist Party of Venezuela (PSUV), General Alberto Muller Rojas, died on Friday at age 75, and National Assembly Deputy Luis Tascón died on Thursday at age 41. Both men were well-known allies of President Hugo Chavez who in recent years became critical of what they saw as corrupt and right-wing elements within the PSUV.
President Chavez attended Muller Rojas's funeral in a military fort in Caracas on Monday and announced that he would posthumously promote the retired army general to the highest possible rank in the Venezuelan military, General-in-Chief.
Chavez called his close political ally "a true revolutionary soldier, a patriot to the bone," and said he was "always an irreverent man, a permanently critical thinker, a teacher of rebellious thought and transformative action." Chavez also wrote of Muller Rojas in his weekly Sunday opinion column yesterday, saying, "I really loved him as if he were my father, and I will always have him in my heart."
August 17 2010
Failing Haiti
T
he "international community" is in charge of rebuilding Haiti, and one thing has become clear: they are not interested in any kind of democracy there, not even the low level of "democracy" that they have committed to in Iraq or Afghanistan.
Haiti's provisional electoral commission (CEP) has now decided once again that the country's largest political party, Fanmi Lavalas, will not be allowed to participate in parliamentary elections scheduled for November.
This is the equivalent of excluding the Democratic Party (actually something quite a bit larger) from U.S. Congressional elections in November.
So far there are no indications that the Obama administration, which has - to put it mildly - enormous influence over the government of Haiti, has any objections. They had supported the last elections in April 2009 which also excluded Fanmi Lavalas, even though the exclusion led to a boycott of some 90 percent of voters.
To follow the historical thread, Fanmi Lavalas is headed by Jean-Bertrand Aristide, who became Haiti's first democratically elected president in 1990. He was overthrown by the military seven months later, in a violent coup that had a lot of Washington's fingerprints on it. President Clinton restored Aristide three years later, but Aristide offended Washington by, among other things, getting rid of Haiti's brutal army - which was not so much a military force as an instrument of political violence on behalf of Haiti's ruling elite.
Paul Farmer of Harvard Medical School is Bill Clinton's Deputy Special Envoy at the UN. His "Partners in Health" has nearly 5,000 people in Haiti. Testifying recently at a Congressional briefing, he described what happened after Aristide and his party were elected for a second time, in 2000:
"Beginning in 2000, the U.S. administration sought . . . to block bilateral and multilateral aid to Haiti, having an objection to the policies and views of the administration of Jean-Bertrand Aristide, elected by over 90% of the vote . . . Choking off assistance for development and for the provision of basic services also choked off oxygen to the government, which was the intention all along: to dislodge the Aristide administration."
It was the second Bush administration that finally overthrew Aristide for the second time - in the coup of March 2004. But as Farmer notes, the process was initiated under the Clinton administration in 2000. And the Obama administration is currently silent on Aristide's forced exile from Haiti, a violation of Haiti's constitution.
August 17 2010
Puntland Government Bans Media Coverage Of Islamic Rebels
The region of Puntland, in northeastern Somalia, has banned journalists from interviewing al-Qaida-linked rebels currently battling the semi-autonomous state. While officials say the restriction is necessary for the region's security, media rights groups have condemned the ban as an attack on press freedoms.
At a press conference in Puntland's commercial capital, Bosaso, Information Minister Abdihakin Ahem Guled issued a ban on the release of news concerning Islamist insurgent leader Mohamed Said Atom and his forces. Guled told the Puntland media it was obligated to help maintain peace in the semi-autonomous region and warned that any outlets found disobeying the order would face serious consequences.
The ban comes two days after the arrest of several employees of Bosaso radio station Horseed FM, after it broadcast an interview with Atom on Friday evening.
August 17 2010
Formalizing Israel's Land Grab
Time is running out for Israel. And the Israeli government knows it. The Jewish Diaspora, especially the young, has a waning emotional and ideological investment in Israel. The demographic boom means that Palestinians in Israel and the occupied territories will soon outnumber Jews. And Israel's increasing status as a pariah nation means that informal and eventually formal state sanctions against the country are probably inevitable.
Desperate Israeli politicians, watching opposition to their apartheid state mount, have proposed a perverted form of what they term "the one-state solution." It is the latest tool to thwart a Palestinian state and allow Israel to retain its huge settlement complexes and land seizures in East Jerusalem and the West Bank. The idea of a single state was backed by Moshe Arens, a former defense minister and foreign minister from the Likud Party,
in a column
he wrote last month in the newspaper Haaretz asking "Is There Another Option?" Arens has been joined by several other Israeli politicians including Knesset Speaker Reuven Rivlin.
The Israeli vision, however, does not include a state with equal rights for Jewish and Palestinians citizens. The call for a single state appears to include pushing Gaza into the unwilling arms of Egypt and incorporating the West Bank and East Jerusalem into Israel. Palestinians within Israeli-controlled territory, however, will remain burdened with crippling travel, work and security restrictions already in place. Palestinians in the occupied territories, for example, cannot reclaim lost property or acquire Israeli citizenship, yet watch as Jews born outside of Israel and with no prior tie to the country become Israeli citizens and receive government-subsidized housing. Palestinians in the West Bank live in a series of roughly eight squalid, ringed ghettos and are governed by military courts. Jews living in the West Bank and East Jerusalem, like all full Israeli citizens, are subject to Israeli civilian law and constitutional protection. Palestinians cannot serve in the armed forces or the security services, while Jewish settlers are issued automatic weapons and protected by the Israel Defense Force.
There's Nothing Wrong with Social Security that Taxing the Rich Fairly Wouldn't Fix
New York Times columnist and economist Paul Krugman, in his column today, is right to expose the attacks on Social Security as being the work of right-wing ideologues eager to destroy a government program that works, backed by cowardly Democrats who want to show their fiscal "responsibility" by getting tough with future pensioners.
But he doesn't go the extra step to point out that this program, founded 75 years ago as a cornerstone of Franklin Roosevelt's New Deal, could be much more fair and even generous to elderly and disabled retirees, and also placed on a much sounder economic footing, by a few simple reforms that would not cost most people a penny, or require hard working folks to work one day longer before retiring.
There is a problem facing Social Security, which Krugman doesn't mention. The Novel economist is correct that the system has built up a huge multi-trillion-dollar surplus over the years. And he is correct in noting that this surplus--the Trust Fund--is big enough to fund the system probably indefinitely, even during the huge bulge in retirement that is starting now that the Baby Boomer generation is hitting retirement age. What he fails to mention is that the Trust Fund has all been stolen (okay, technically borrowed) by the federal government to fund its own annual deficits, and given the national attitude towards taxes, it will never be repaid. That's why the right is able to create a panic by falsely claiming that Social Security is going to go "bankrupt" when current workers' Social Security taxes can no longer pay for the benefits of current retirees.
But there is a simple solution to even this deception, which is to eliminate the cap on income which is subject to the Social Security tax.
Read full story here
Some in Merkel's Party Want to Talk with the Taliban
It has not been a good couple of months in Afghanistan. July was the deadliest month for US troops there since the campaign started almost nine years ago, with 66 soldiers losing their lives. Furthermore, the website icasualties.org reported over the weekend that 2,000 coalition troops have now died in Afghanistan. And the violence is getting worse. Whereas 521 soldiers were killed in 2009, making it the deadliest year since the beginning of the war, 434 have already been killed in 2010.
And still, there is no real end in sight. In an interview with NBC television aired on Sunday, the US commander in Afghanistan, Gen. David Petraeus asked for patience and said that there were "areas of progress" that now had to be linked together and extended.
The Myth of the Free Market
Millions of Americans are today unemployed because the free market is not working for them. Millions of Americans have lost their homes because the free market did not work for them or for the banks. Before the health care bill passed last January millions could not get health care because the free market worked for them when they were healthy but often did not work at all when they needed care.
The free market sent jobs to China and Mexico, India and Taiwan. The free market encouraged subprime mortgages and collateralized debt obligations that were collages of numbers that the market itself did not understand. The free market encouraged insurance companies to compete for ways not to pay for health care rather than to encourage ways to provide health care.
During the years of the Bush administration's free market advocacy, Bear Stearns collapsed, Merrill Lynch failed, and Lehman Brothers collapsed. The free market enabled Goldman Sachs to act as if it believed in securities that it sold to others while at the same time betting with its own money that these securities would fail. To knowingly induce buyers with misinformation is intentional fraud, but the free market did not and has not ever protected against intentional fraud.
In a free market, British Petroleum risked environmental catastrophe in order to save money on expensive cement or time-consuming testing and used cheaper designs rather than safer ones for the most complex drilling apparatus in the world. Transocean obeyed the demands of the market by not fixing 390 maintenance items that were back-listed, ignored a leak in the control pod of the blowout preventer, and avoided the delay caused by its gas detection alarms by simply shutting them off.
August 16 2010
Israeli TV screens joint drill with US marines
Israel's Channel 2 TV aired previously unseen footage Sunday of a joint military drill by US marines and Israeli forces at a base in the Negev a day earlier.
The drill simulated the occupation of a village in the region. The participating marines were reportedly preparing for deployment in Afghanistan.
August 16 2010
Ecuador to World: Pay Us $3.5 Billion to Not Drill Oil
Two years ago, we were given a lesson on how the price of oil correlates with risk. The cost of a barrel of oil also depends on demand, the quality of crude, and the temperament of the market. Whatever your take is on fossil fuels, the vagaries that affect the giant yo-yo of oil prices is fascinating. One country, however, is turning the assumptions over the price of oil on its head.
Ecuador has told the world to put a price on oil that will never hit the market. Yesterday the small South American nation signed a deal with the United Nations Development Program that leaves a huge amount of oil reserves untouched in exchange for the approximate sum of US$3.5 billion.
Under Yasuni National Park lies about

850 billion barrels

of crude oil. Smack in the middle of the Ecuadorian Amazon, the park ranks among the most bio-diverse regions on the planet. Among the countless species of plants, animals, birds, and insects are two tribes who are among the few peoples still not in contact with the modern world. What does Ecuador receive in return? A

windfall from wealthy countries

, led by Germany and Spain, that will go towards renewable ene

rgy programs, environmental and social development projects, and eco-tourism.
Read full story here
August 16 2010
Opposition pollster predicts Chávez crushing victory
According to the latest survey carried out by opposition pollster Datanalisis, reported in Ultima Noticias

concerning the September 26th National Assembly elections in Venezuela, Pr

esident's Chavez's United Socialist Party (PSUV) and its allied Venezuelan Communist Party (PCV) are set to rout the right wing opposition camp for the thirteenth time in fourteen elections since December 1998.
The Datanalisis' national survey indicates that chavismo will win 124 (75.15%) seats out of the 165 up for grabs, whereas the opposition will win 41 (24.85%). This will give the parties of the Bolivarian Revolution more than the 110 seats required for a 66.7% qualified majority in the National Assembly which will allow organic legislation to be passed into law without having to make any deals with other parties.
The PSUV and PCV will sweep the board in states such as Portuguesa (6 – 0), Sucre (6 – 0), Trujillo (5 – 0) and Amazonas (4 – 0) according to the poll. In other states where President Chavez and his socialist policies enjoy wide support the opposition will be limited to just one seat in the following states: Apure, Aragua, Barinas, Bolívar, Guárico, Falcón, Vargas and Yaracuy. The opposition's best results will be in Táchira (5-2), Zulia (8-7) and Miranda (6-6). This information was published today, August 15th 2010, in the Venezuelan national daily, Ultimas Noticias.
August 16 2010
Jobless Millions Signal Death of the American Dream for Many
Richard Gaines is one of the best-known faces on Camden's Haddon Avenue. It is a rough-and-tumble street, lined with cheap businesses and boarded-up houses, and is prey to drug gangs. Gaines, 50, runs a barbershop, a hair salon and a fitness business. He works hard and is committed to his community. But Haddon Avenue is not an easy place to make a living in the best of times. And these are far from the best of times.
Just how badly the great recession has struck this fragile New Jersey city, which is currently the poorest in America, was recently spelled out to Gaines. In happier times – whatever that might mean for a city as destitute as Camden – local businesses on Haddon Avenue could at least rely on a bit of trade from those who made their money on the street.
Young men bought flashy clothes and got sharp haircuts and always paid in cash. But no longer. The economy is now so bad in Camden that even the criminals are struggling and going short. "Even the guys who got money from illegal means really don't want to spend it," Gaines said.
Such a development, though, is just a snapshot of the deep problems still hitting the wider American economy. Growth rates are stuttering and a recovery is struggling to take hold. It may even now be showing signs of going backwards again, as countries such as Germany start to power forward. Joblessness has taken hold in America, with the numbers of long-term unemployed reaching levels not seen since the Depression of the 1930s. The figures are frightening and illustrate a society that remains in deep trouble.
The headline jobless figure of 9.5% is bad enough but does not begin to convey the problem as it fails to measure those who have stopped looking for work. Over the past three months alone more than a million Americans have fallen into that category: effectively giving up hope of finding a job and dropping out of the official statistics. Such cases now number some 5.9 million and their ranks are likely to grow as millions more find their jobless status becoming a permanent state of hopelessness. Surveys show that with each passing week on the dole their chances of finding a job get slimmer.
Though corporations, especially in the banking sector, are posting healthy profits, they are not hiring new workers. At the same time, government cuts are sweeping through city and state governments alike, threatening tens of thousands of jobs and slicing away at services once thought vital. Schools, street lighting, libraries, refuse collection, the police, fire services and public transport networks are all being scaled back.
Read full story here
August 16 2010
US Death Squads Roam The Globe
At first, the news from Yemen on May 25 sounded like a modest victory in the campaign against terrorists: an airstrike had hit a group suspected of being operatives for Al Qaeda in the remote desert of Marib Province, birthplace of the legendary queen of Sheba.
But the strike, it turned out, had also killed the province's deputy governor, a respected local leader who Yemeni officials said had been trying to talk Qaeda members into giving up their fight. Yemen's president, Ali Abdullah Saleh, accepted responsibility for the death and paid blood money to the offended tribes.
The strike, though, was not the work of Mr. Saleh's decrepit Soviet-era air force. It was a secret mission by the United States military, according to American officials, at least the fourth such assault on Al Qaeda in the arid mountains and deserts of Yemen since December.
The attack offered a glimpse of the Obama administration's shadow war against Al Qaeda and its allies. In roughly a dozen countries — from the deserts of North Africa, to the mountains of Pakistan, to former Soviet republics crippled by ethnic and religious strife — the United States has significantly increased military and intelligence operations, pursuing the enemy using robotic drones and commando teams, paying contractors to spy and training local operatives to chase terrorists.
August 15 2010
One Injured, Two Arrested During Anti Wall Protests Near Bethlehem
A Palestinian man sustained light wounds two others arrested by Israeli soldiers during the weekly anti wall protest in Al Walajah village between Jerusalem and Bethlehem.
Village residents along with international and Israeli supporters marched after the midday Friday prayers and headed towards the construction site of the wall being built on their lands.
As soon as the protesters reached the gate of the nearby Israeli settlements Israeli troops attacked them using tear gas and sound bombs.
The tear gas forced people back to the village a group of Israeli soldiers followed some protesters into a house at the entrance of the village and beat them up before arresting two local youth.
Read full story here
August 15 2010
Netanyahu approves building new classrooms in settlements
Prime Minister Benjamin Netanyahu on Sunday approved the erection of 23 mobile classrooms in West Bank settlements, even though there is no official construction plan that would allow this move.
Netanyahu declared a 10-month freeze on construction in West Bank settlements in November of last year in efforts to relaunch stalled peace talks with the Palestinians. The Palestinian leadership has demanded a complete halt to Israeli construction on land slated for a future Palestinian state.
The prime minister's decision comes in the wake of an aggressive debate between the Ministry of Justice and the Defense and Education ministries.
The Education Ministry has announced that there is a need for 23 new buildings, in 12 different West Bank settlements, to cater to the needs of the local education authorities. The Defense Ministry has confirmed these needs, but the deputy attorney general ultimately rejected the request due to the absence of proper construction authorization. He explained that even the most dire of educational needs mustn't circumvent the law.
Read full story here
August 15 2010
Iran and Turkey bombardments push Kurdish families into refugee camps
As Iran and Turkey bomb border villages regularly-now almost daily-the refugee camps for villagers expand since villagers cannot be guaranteed a safe return to their homes and farms.
In the afternoon heat, families unload their belongings out of a pickup truck. An old woman sets up on the rocky ground a tent that she received from the UNHCR. Children in threadbare clothes run around in bare feet and try to cool down in the stream that runs through the camp.
These newcomers join hundreds of families that have already found refuge in the camp near the town of Ranya, northwest of Suleimaniya in Iraqi Kurdistan. "We were all so afraid, and our children could not sleep at night," said Musa Ghatun, who has lived in the camp for two months. "We have no money to build a house elsewhere; we have no chance to start a new life. And doesn't everyone want to be in his own village?"
August 15 2010
Jordan Valley village to be razed for third time
Several rebuilt structures in a Jordan Valley village will be razed again, after Israel's Civil Administration handed out demolition warrants Sunday morning, an official said.

Less than a month ago, the Al-Farisiya village saw 120 structures demolished, belonging to 28 residents. The structures were rebuilt by the Palestinian Authority, but six were razed again by the Civil Administration.

Residents, along with Israeli and international peace activists, rebuilt the structures two weeks ago but they face demolition again, head of the Al-Malih village council and the Bedouin neighborhoods Aarif Daraghma said.
August 15 2010
100 hurt as workers, police clash in Bangladesh
More than 100 people, including 17 policemen, were injured on Saturday in a clash between police and garment factory workers in Bangladesh, Xinhua reported. Violence broke out in Narayanganj district, 17 km southeast of Dhaka, when thousands of workers of the ACS Textiles took to the streets to demand reduction in work time from 15 to 11 hours.
August 14 2010
Fidel meets with Colombian senator Piedad Córdoba
COMANDANTE en Jefe Fidel Castro Ruz met yesterday with the Colombian senator Piedad Córboba, leader of the Colombian peace movement (Columbianos y Colombianas por la Paz).
In the fraternal meeting they exchanged ideas on the peace process in Colombia, the situation in our region and the dangers of war in the world. The two public figures both expressed optimism in the triumph of peace and in the construction of a new world in which human beings utilize their intelligence and the knowledge they have accumulated.
Read full story
here
August 14 2010
5 detained as Hebronites demand city back
Three Israeli citizens and two foreign nationals were detained from a protest in the Old City of Hebron on Saturday, organized by the local group Youth Against Settlements.

The protest was a group call for the re-opening of Ash-Shuhada street, largely closed off to Palestinian residents of the city following the establishment of illegal Israeli settlements, many in Palestinian homes from which previous residents were expelled. Shops in the area where settler moved in were closed in the 1990s by military order and dozens of families left following violence.
August 14 2010
Turkey Accused of Using Chemical Weapons against PKK
German experts have confirmed the authenticity of photographs that purport to show PKK fighters killed by chemical weapons. The evidence puts increasing pressure on the Turkish government, which has long been suspected of using such weapons against Kurdish rebels. German politicians are demanding an investigation.
It would be difficult to exceed the horror shown in the photos, which feature burned, maimed and scorched body parts. The victims are scarcely even recognizable as human beings. Turkish-Kurdish human rights activists believe the people in the photos are eight members of the Kurdistan Workers' Party (PKK) underground movement, who are thought to have been killed in September 2009.
In March, the activists gave the photos to a German human rights delegation comprised of Turkey experts, journalists and politicians from the far-left Left Party, as SPIEGEL reported at the end of July. Now Hans Baumann, a German expert on photo forgeries has confirmed the authenticity of the photos, and a forensics report released by the Hamburg University Hospital has backed the initial suspicion, saying that it is highly probable that the eight Kurds died "due to the use of chemical substances."
Did the Turkish army in fact use chemical weapons and, by doing so, violate the Chemical Weapons Convention it had ratified?
August 13 2010
Afghanistan: villagers block road after claims of civilian deaths
A crowd of about 300 villagers blocked a main road in eastern Afghanistan Aug. 12 and chanted "Death to the US!" The protest came after a raid by US forces in which they said three innocent villagers were killed at Zarin Khil, Sayed Abad district, Wardak province. Village elders said US troops stormed into a family's house and shot three brothers—all young men—and then took their father into custody. Local police are said to be investigating the allegations. NATO forces rejected the claim, saying those killed in the overnight raid were "suspected insurgents", and that a local Taliban commander was detained.
August 13 2010
3 troops killed in Afghanistan
T
hree international coalition service members were killed in the south of Afghanistan, while U.S. and Afghan forces stepped up operations in the east against a Taliban faction linked to al-Qaeda, arresting several key militants, military officials said Friday.
Britain's Ministry of Defense said one British soldier was killed Friday by small-arms fire in the Sangin district of Helmand province. Another serviceman who was injured Tuesday in an incident involving a helicopter at a patrol base in the Nahri Sarraj district of Helmand died Thursday at a hospital in Britain, it said.
Read full story
here
August 13 2010
Army shuts down peaceful rallies across West Bank
Israeli soldiers used force to shut down weekly non-violent anti-wall protests in villages across the West Bank on Friday.
International, Israeli and Palestinian activists in Bil'in, Nil'in, and An-Nabi Salih, near Ramallah, and in Al-Ma'sara, near Bethlehem, were met with tear-gas grenades as they marched towards the separation wall to protest the confiscation of their lands.
August 13 2010
Venezuela: Ending farmer exploitation
The Venezuela government has taken possession of a massive country estate formerly belonging to the wealthy banker and fugitive from justice, Nelson Mezerhane.
The announcement was made by president Hugo Chavez last Sunday during his weekly television broadcast, Alo Presidente.
The Hato Santa Elena, located in a remote area of the state of Apure, consists of more than 38,000 acres and will be converted into a Socialist Production Center. Mezerhane fled Venezuela last June after violating numerous financial laws related to his ownership of the private bank, Banco Federal. He is currently taking refuge in the United States.
August 13 2010
Cuban Antiterrorist Praises Danny Glover's Solidarity
Cuban antiterrorist fighter Gerardo Hernandez praised US actor Danny Glover's solidarity with him and his four comrades who remain unjustly imprisoned in the United States since 1998 when they were arrested and given harsh and unjust sentences for monitoring anti-Cuba extreme right-wing groups planning and carrying out terrorist actions against the island. Glover, who visited Gerardo last Sunday at the federal prison of Victorville in California, has played an active role in spreading the truth about the case of the Cuban Five
Read full story
here
August 13 2010
Canadian postal workers put stamp of approval on bid to break Gaza blockade
The union for Canada's postal workers is sending a message of support to the Gaza Strip, backing a plan that would take a ship through the blockade of the Palestinian territory in the wake of Israel's suspension of mail delivery there.
The Canadian Union of Postal Workers on Thursday called on Canadians to co-ordinate with Canada Boat Gaza, a coalition of Islamic and human-rights organizations that are planning to sail a ship through the Israeli blockade this autumn to deliver aid to the Gaza Strip.
Read full story
here
August 13 2010
Youth Unemployment a "Social Time-Bomb"
The ITUC has described the high and rising levels of youth unemployment globally as a "social time-bomb", which risks damaging the social, economic and political fabric of countries around the world. New figures released by the International Labour Organisation today, the United Nations Youth Day, underline the dramatic increase in the number of young jobless as the employment impacts of the global economic crisis continue to worsen.
Read full story
here
August 13 2010
Honduras Down the Memory Hole
A year after a military coup removed democratically elected President Manuel Zelaya from office, Hondurans are still living under a repressive government—but the U.S. is pushing Latin American countries to join it in normalizing relations with the regionally ostracized nation.
Reporting from a meeting of the Organization of American States (OAS), the New York Times (6/8/10) dutifully relayed Secretary of State Hillary Clinton's assertion that "we saw the free and fair election of President [Porfirio] Lobo,'' noting on the other hand that "several foreign ministers inveighed against Mr. Lobo's government, which they said had violated human rights." The Times left it up to readers to guess who might have been right. The Washington Post (6/8/10) reported that this debate is simply an indication of "how difficult it is to bridge regional divisions."
Such coverage is no surprise, given the media's enthusiastic response to Lobo's election in January. After the June 28, 2009, coup, the U.S. and many Latin American countries said they would refuse to recognize the elections in November if Zelaya wasn't restored to office to finish out his term (Washington Post, 9/4/09). Given that the elections would be held under the auspices of a coup regime, the UN, the OAS, the EU and the Carter Center didn't send observers (Real News Network,
4/08/10
).
August 13 2010
Huge Oil Deposit Discovered in Northern Afghanistan
Officials in the Ministry of Mines and Industries say their studies have shown that a large deposit of oil with the capacity of 2 billion barrels is discovered in northern Afghanistan
After the technical studies of this oil deposit is over, it will be handed over to the private sector, the Ministry says.
"We conducted two important geological operations which we call artificial earthquake, with the cooperation of our international professionals and with the help of the international community, to determine the exact volume of gas deposits in these areas," the Minister of Mines and Industries, Wahidullah Shahrani told TOLOnews.
August 12 2010
On Tuesday, President Obama signed a $26 billion bill to help state and local governments cover Medicaid payments and avoid having to lay off teachers and other public employees. In what passes for high drama in Washington, the House of Representatives was called back from its summer recess to vote on the package, and the successful outcome was hailed as a major Democratic victory. "We can't stand by and do nothing while pink slips are given to the men and women who educate our children or keep our communities safe,'' Obama said. "That doesn't make sense.''
No, it doesn't. But only by the occluded standards of contemporary Washington could this aid package be considered a victory. What began three months ago as a $50 billion emergency spending bill limped to the president's desk at half that size and was largely paid for - "offset'' in the clinical terminology of the budget - by cutting $12 billion from the food stamp program. In other words, a measure designed to help one group struggling in the recession came at the expense of another that is even worse off - and growing rapidly.
The number of people receiving food stamps stands at a record 41 million, or one out of every eight Americans. Driven by the downturn, that number has risen every month for the past 18 months. Last year alone, it grew by 20 percent. It's grown by 50 percent since the recession began.
August 12 2010
International Transport Federation calls for Action on Illegal Israeli Settlements
The International Transport Federation (ITF) passed a resolution

yesterday

at its 42nd congress in Mexico, calling on transport workers to stop the transport of all goods and persons to illegal Israeli settlements in the Occupied Palestinian Territories.
The Palestine Solidarity Campaign (PSC) welcomes this important step forward in the campaign against the ongoing building of illegal settlements and against the Occupation.
The resolution was tabled by the Palestinian General Federation of Trade Unions (PGFTU) and seconded by the
RMT - the National Union of Rail, Maritime and Transport Workers.
The ITF represents 759 unions, with over 4,600,000 transport workers in 155 countries.
RMT General Secretary and PSC patron, Bob Crow, said the vote was unanimous, with full support from all represented unions including railway and shipping unions.
For more information on the Palestine Solidarity Campaign (PSC) click here
August 12 2010
(New Zealand) PSA warns against public-private partnerships
Public private partnerships (PPP) for infrastructure projects could create unnecessary and expensive long term-risks, the Public Service Association says. Finance Minister Bill English announced the new policy yesterday, saying government agencies would have to consider PPPs for projects costing more than $25 million. He said it wouldn't lead to privatising state assets.
PSA national secretary Richard Wagstaff said rigid long-term contracts with private providers could hamper planning around demographic and social changes and prevent timely responses to technological advances. Private procurement options already exist, he said.
"The Government is once again presenting PPPs as a more efficient, value for money option but international evidence suggests these assumptions are wrong." PPPs bring financial risk to the government and taxpayers and cause loss of public control over services and facilities, Mr Wagstaff said. "Private companies are answerable to their shareholders while public services are accountable to both government and the public."
Read full story
here
August 12 2010
A worker-run energy plan in Venezuela
During an inspection of the power plant La Mariposa, Venezuelan Energy Minister Ali Rodriguez reported that the facility would soon have the capacity to produce 45 megawatts (MW) of electricity, enough to supply the residents of the neighborhood of Altos Mirandinos and southeast Caracas.
The plant was taken over by Venezuelan workers in March in response to the electricity crisis that had been affecting the country over the past year.
"In addition to reestablishing the machinery that was inactive, we are installing a new generation capacity to satisfy the demand that we foresee due to population growth, industrial development and an improving living standard for residents of the country", explained Vice President Elias Jaua last Thursday.
Cuban workers from their country's Electric Union have assisted the Venezuelans in the rehabilitation of the plant, which had been neglected for more than 20 years.
Colombia: Teacher trade unionist killed as violations continue
Education International has expressed dismay as news emerged that another teacher trade unionist has been killed in Colombia. This latest murder brings to 17 the total number of teachers that have been killed in 2010 alone.
The teacher trade unionist, Fernando Loboa Aragon, from Santander de Quilchao in Cauca province, was killed on 31 July when he was leaving a higher education institution. Another teacher, Elcira Burgos, who was with him at the time, was also wounded.
EI and its member organisation, the Federación Colombiana de Educadores (FECODE), have condemned the murder and reiterated their demand on the government to increase protection for teachers and trade unionists in Colombia.
Read full story here
August 12 2010
Indian Trade unions call for general strike on September 7
CPI MP Gurudas Dasgupta (right) at a convention of the Joint Committee of Trade Unions in Bangalore on Wednesday.
Communist Party of India MP Gurudas Dasgupta has urged trade union activists to mobilise workers in the State for the general strike, which has been called for September 7 against the "anti-people policies of the Union Government."
Addressing a workers' convention organised by the Joint Committee of Trade Unions here on Wednesday, Mr. Dasgupta said, "This strike is not about bonus or any wage-related demand, it is about fighting on behalf of the Indian people against the economic policies pursued by the Government."
Read full story
here
August 11 2010
US -- Venezuela: The Empire Strikes Back (and Loses)
US policy toward Venezuela has taken many tactical turns, but the objective has been the same: to oust President Chavez, reverse the nationalization of big businesses, abolish the mass community and worker based councils and revert the country into a client-state.
Washington funded and politically backed a military coup in 2002, a bosses' lockout in 2002-03, a referendum and numerous media, political and NGO efforts to undermine the regime. Up to now all of the White House efforts have been a failure – Chavez has repeatedly won free elections, retained the loyalty of the military and the backing of the vast majority of the urban and rural poor, the bulk of the working class and the public sector middle class.
Washington has not given up nor reconciled itself to coming to terms with the elected government of President Chavez. Instead with each defeat of its internal collaborators, the White House has increasingly turned toward an 'outsider' strategy, building up a powerful 'cordon militaire', surrounding Venezuela with a large-scale military presence spanning Central America, northern South America and the Caribbean. The Obama White House backed a military coup in Honduras, ousting the democratically elected government of President Zelaya (in June 2009), a Chavez ally, and replacing it with a puppet regime supportive of Washington's anti-Chavez military policies.
The Pentagon secured seven military bases in eastern Colombia (in 2009) facing the Venezuelan frontier, thanks to its client ruler, Alvaro Uribe, the notorious narco-paramilitary President. In mid 2010 Washington secured an unprecedented agreement with the approval of right wing President Laura Chinchilla of Costa Rica, to station 7000 US combat troops, over 200 helicopters, and dozens of ships pointing toward Venezuela, under the pretext of pursuing narco-traffickers. Currently the US is negotiating with the rightist regime of President Ricardo Martinelli of Panama, the possibility of re-establishing a military base in the former Canal Zone. Together with the Fourth Fleet patrolling off shore, 20,000 troops in Haiti, and an airbase in Aruba, Washington has encircled Venezuela from the West and North, establishing jumping off positions for a direct intervention if the favorable internal circumstances arise.
August 11 2010
IDF chief: Future Gaza flotillas will be blocked by Israel's defensive shield
IDF Chief of Staff Gabi Ashkenazi
Future aid flotillas traveling to Gaza to break the naval siege on the territory will be blocked by the Israel Navy's defensive shield, Israel Defense Forces Chief of Staff Gabi Ashkenazi said on Wednesday.
"If they come, they will be stopped by our defensive shield," Ashkenazi said in his address at the naval graduation ceremony in Haifa. "There is no doubt that you will manage to stop the nearing threats," he told the graduates.
Earlier Wednesday,
Ashkenazi testified
before an internal probe into Israel's
deadly raid
on the Gaza-bound aid ship, the Mavi Marmara, saying that the raid quickly became "chaotic," and the soldiers had no choice but to "continue with the plan."
Read full story
here
August 11 2010
Huge mass grave uncovered in Colombia
Human rights NGOs, politicians and local communities used a public audience at the weekend to denounce the existence of a mass grave which is believed to contain as many as 2,000 corpses of victims of extra-judicial executions which date from 2005 onwards. The audience had the participation of an international delegation made up of MPs from the UK, the European parliament, Spain and the US, as well as trade unionists and several highly renowned human rights defenders from both Colombia and abroad.
On January 26th, Spanish newspaper Publico reported the discovery of the grave of up to 2000 bodies which date back to 2005. The newspaper says that the bodies were buried there by the Colombian army, who have a heavy presence in the area around the site in the town of La Macarena, in Meta department, about 200km south of Bogota. It is one of the biggest mass graves discovered in the history of conflicts in South American. Jairo Ramirez, from the Committee for the Permanent Defence of Human Rights, said, "The army commandant told us that they (the bodies) were guerrillas fallen in combat, but people in the region have told us about the large number of social leaders, campesinos and community defenders who disappeared without a trace"
Read full story
here
August 11 2010
Launch of IPSC "Irish artists' pledge to boycott Israel"
The Ireland Palestine Solidarity Campaign (IPSC) has drawn up the following pledge, signed by over 130 Irish creative and performing artists, whereby they undertake to boycott the Israeli state under present circumstances:
"In response to the call from Palestinian civil society for a cultural boycott of Israel, we pledge not to avail of any invitation to perform or exhibit in Israel, nor to accept any funding from any institution linked to the government of Israel, until such time as Israel complies with international law and universal principles of human rights."
This pledge will be launched in Meeting House Square, Temple Bar, Dublin 2, this Thursday 12th August at 1pm in the presence of a number of the signatories.
August 10 2010
The "banality of evil" and Israel's destruction of al-Araqib
In the early hours of 10 August, Israeli forces destroyed -- for the third time -- the Bedouin village of al-Araqib in the northern Negev desert. Israel had first destroyed the village on 27 July as EI reported, and each time the villagers have attempted to rebuild. Joseph Dana witnessed the latest destruction.
We arrived in the darkness. The horizon was blurred from the desert night sky and all that could be seen was ruin. Piles of concrete, steel reinforcing bars and wood in places where the village once sat. In this maze of construction material there were small makeshift living spaces, barely suitable for the harsh desert climate. Simple tent structures consisting of four wood shafts and a black tarp was the only remains of this village.
We, Israeli and international activists, were invited to sit in these tents through the night and sip coffee in the cool desert night with the villagers. They told us about their livelihood now that the village is constantly facing demolition. Some talked about their military service in the Israeli army and their disbelief that the country they served could behave in such a way as to destroy their entire village. Others expressed hope that at least some Israelis understood the grave nature of their government and were standing arm in arm with them.
Read full story
here
August 10 2010
Naomi – the blood diamonds in Ireland aren't "dirty-looking pebbles"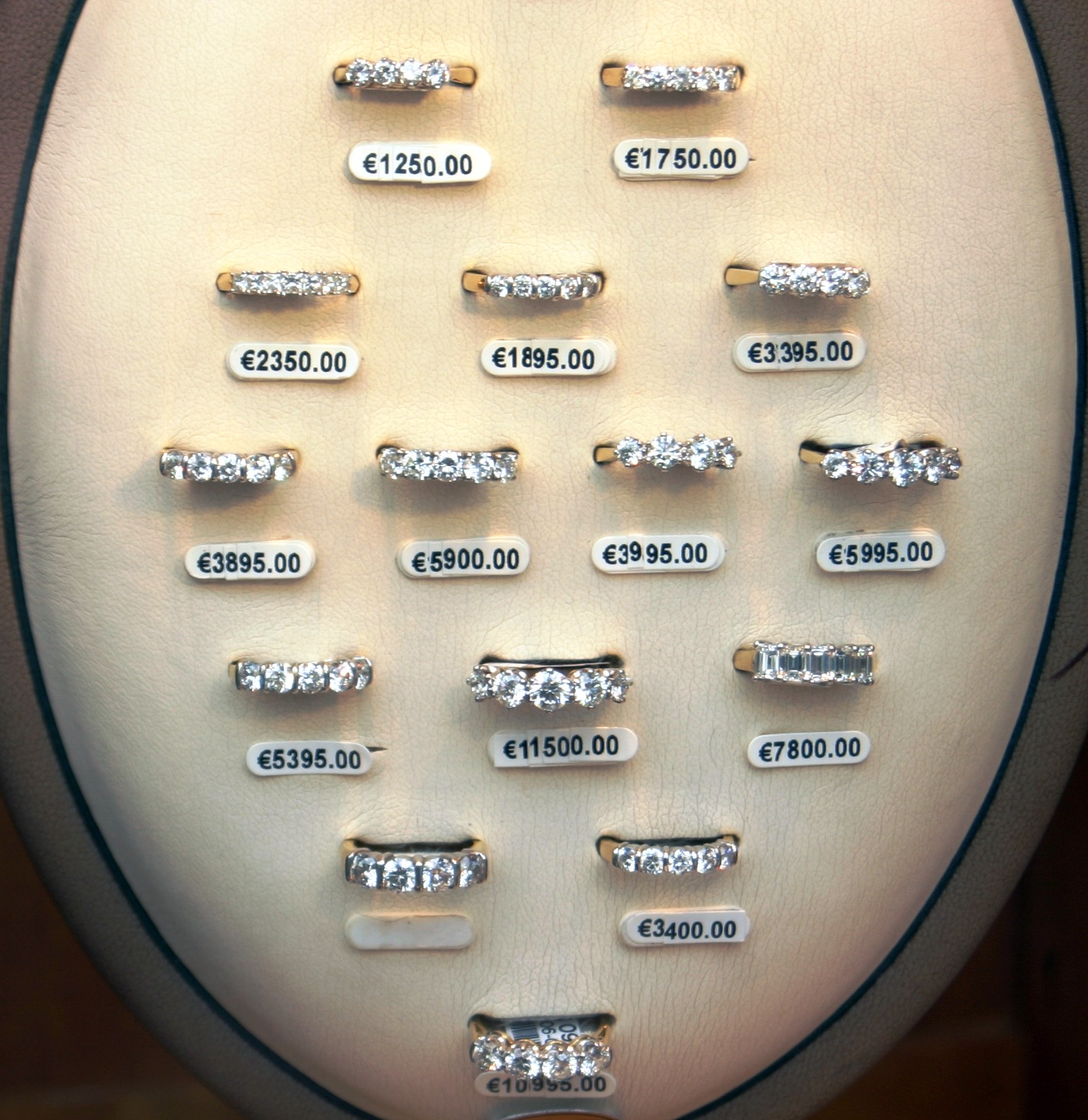 Both the print and broadcast media have given a lot of coverage to the saga of Naomi Campbell's encounter with blood diamonds, allegedly given to her by the former Liberian ruler and accused war criminal Charles Taylor. The controversy surrounds what Campbell described as a few "dirty looking pebbles" she received in the middle of the night while attending a dinner party hosted by former South African President, Nelson Mandela.

The diamond industry has tried to convince the world that the trade in blood diamonds was largely eliminated following the introduction of the Kimberley Process system of self-regulation in 2003. However, as evidenced by the recent failure of KP members to ban diamond exports from Zimbabwe where Global Witness has documented gross human rights abuses, the KP is unable and unwilling to prevent vast quantities of diamonds that fund human rights abuses from entering the market. Vested interests ensure that the KP definition of a blood diamond is tightly ring-fenced and only applies to "rough diamonds used by rebels" thereby allowing their blood diamonds to slip under its radar and be sold to unsuspecting consumers as KP-compliant and "conflict free" diamonds.
August 10 2010
Political Prisoners in America
Noted journalist HL Menchen described "The most dangerous man to any government (as someone) who is able to think things out for himself, without regard to the prevailing superstitions and taboos. Almost inevitably he comes to the conclusion that the government he lives under is dishonest, insane, and intolerable," yet resisting, he faces recrimination - political imprisonment for his beliefs and activism, officials tolerating no opposition to their authority, no matter how extreme or lawless.
In his book "Race to Incarcerate," Marc Mauer focuses on America's obsession with imprisonment, punishment, and the commodification of prisoners to fill beds - harming society's most vulnerable, targeted for supporting ethnic justice, racial emancipation, and political, economic and social equality across gender and color lines, locked away in the "Land of the Free." In submitting a new report to the UN, National conference of Black Lawyers activist/attorney Stan Willis said:
"The United States is very, very concerned when its citizens begin to raise questions in these international forums, because (America) still prefers to posture itself, including the Obama administration, as the leader of the free world and that they don't have any human rights violations, and they certainly don't have any political prisoners, and we have to dispel that notion in the international community."
American officials don't "want to have these issues reach the world's people. How do you go into Iraq (and) Afghanistan telling people about their democracy when (you've got innocent people) locked down in prison for 30 - 40 years as political prisoners....(activists) against social injustice, colonialism, and/or imperialism, (incarcerated for) their political commitments."
August 10 2010
Bangladesh: Government Must Support Decent Minimum Wage and Cease Harassment of Union Rights Supporters
The ITUC is calling on the Government of Bangladesh to support decent wages and living standards for the country's workers, particularly in the garments sector, and cease harassment of trade unionists and other worker-rights advocates.
Thousands of workers in the ready-made garments sector, a key industry exporting to countries around the world, protested against a government announcement in July that the minimum wage would only be increased to Taka 3,000 per month instead of the 5,000 proposed by unions, and to delay implementing the increase until November. The ITUC is particularly concerned over arrest warrants issued against leaders of the Bangladesh Center for Workers Solidarity (BCWS), who are currently in hiding. The government had already cancelled the BCWS registration as an ngo in early June, confiscated its property and frozen its bank account. A BCWS staff member was subsequently detained and severely beaten by security police before managing to escape. Factory owners supplying some of the biggest names in global retailing are thought to be behind the repression.
August 10 2010
Activists charged with blockading Israeli-owned beauty shop acquitted in court
Four activists charged with aggravated trespass for blockading the Israeli-owned cosmetics shop, Ahava, in Covent Garden, London, in 2009, were

today

acquitted of all charges against them.
The four –Bruce Levy, Tom Ellis, Jo Crouch and Tahir Alam Hussein, all from London – had
locked themselves to concrete-filled oil drums inside the shop, closing it down for a day each time in

September

and

December

2009.
They appeared at Highbury Corner Magistrates Court, London, this week, and were acquitted this afternoon when the primary witness for the prosecution, Ahava's store manager, refused to attend court to testify, despite courts summons and threats of an arrest warrant.
Activists have held fortnightly demonstrations outside the Covent Garden store throughout 2010, in protest at its complicity in the occupation of Palestinian territory.
The Ahava factory, which uses mud from the Dead Sea to make beauty products, is based in the illegal Israeli settlement of Mitzpe Shalem in the Palestinian West Bank. It mislabels its products 'Dead Sea: Israel'.
Sarah Colborne, director of campaigns and operations at the Palestine Solidarity Campaign, which supports the fortnightly protests, said: 'Ahava is profiting from Israel's occupation of the West Bank, an occupation which is illegal under international law, while also ensuring the financial survival of the illegal settlement in which it sits.
'As such, it is the owners of Ahava who should be in court, not just for their role in helping to cement an unlawful occupation, but for violating the Fourth Geneva Convention by exploiting the natural resources of an occupied territory for profit.'
Ms Colborne added: 'We call on all people of conscience to join a mass protest outside Ahava

this Saturday

to show that no court action will deter us from highlighting Ahava's abuses of international law.'
Ahava has been the subject of worldwide protests, including in the United States, Holland and within Israel itself.
Photocall:

Saturday

14 August 2010
Demonstration outside Ahava, 39 Monmouth Street, Covent Garden,
For more information on the Palestine Solidarity Campaign (PSC)
click here
August 10 2010
Foundation says hundreds of tombstones disinterred
Israeli bulldozers entered the Mamilla (Ma'man Allah) cemetery in West Jerusalem on Monday night, and began taking down headstones from Muslim graves, a statement from the Jerusalem-based Al-Aqsa Foundation for Waqf and Heritage said.

The destruction of graves was the third in just over a week, with Israeli officials telling Ma'an that initially, graves were destroyed because they were "built illegally with the aim to take over the plot."
August 10 2010
The Quiet Revolution: Venezuelans Experiment with Participatory Democracy
Communal Council Assembly in Santa Rosa
Selling goods to passersby on the street, Jenny Caraballo describes her local communal council. "Some of our members are homemakers who want their community to be pretty," Caraballo says while trying to make eye contact with potential clients in 23 de Enero, a barrio popular that is one of many rough areas in Caracas, Venezuela.
The balmy weather southwest of Caracas, in the state of Táchira, does not stop Pedro Hernandez, 77, from playing chess with his retired friends in San Crist—bal's city square. "Before, the government didn't help the people," he says. "Now they give us benefits. "Now there is culture, dance and programs free to the public and organized by our communal council." Hernandez does his part by organizing chess tournaments.
And in the picturesque mountain town of Merida, Alidio Sosa says: "The councils are a symbol of how the old parties are dead and won't ever come back—the parties of the past never concerned themselves with the community."
Read full story here
August 10 2010
Strikers face legal obstacles
Cambodian
Labour Confederation President Ath Thun said yesterday that more than 50,000 garment workers had thumbprinted statements in favour of a strike to protest against the industry's new minimum wage. A government official, meanwhile, said unauthorised strikes would be met with legal action.
A decision last month by the Labour Advisory Committee, a body of government officials and industry representatives, set the minimum wage for garment workers at US$61 per month. This ruling increased the previous minimum wage, established in 2006, by $5.
"If they do not give us the chance to hold new negotiations, we will still hold the strike," Ath Thun said. "It is not my decision – it is the decision of the workers, so I will follow them."
Anthony Pa, a member of the Council of Jurists at the Council of Ministers, warned that the government would consider bringing lawsuits and criminal charges against any who engage in unlawful demonstrations.
Read full story
here
August 9 2010
Press Censorship: How the Truth Was Hidden About Nagasaki
Nagasaki, which lost over 70,000 civilians (and a few military personnel) to a new weapon sixty-five years ago today, has always been The Forgotten A-Bomb City. No one ever wrote a bestselling book called Nagasaki, or made a film titled Nagasaki, Mon Amour. Yet in some ways, Nagasaki is the modern A-bomb city. For one thing, when the plutonium bomb exploded above Nagasaki it made the uranium-type bomb dropped on Hiroshima obsolete. In fact, if it had not exploded off-target the death toll in the city would have easily topped the Hiroshima total.
Hiroshima has always drawn the vast majority of press, public and historical interest, even though many who support the first atomic bombing have expressed severe misgivings about number two because of the failure of United States to give the Japanese at least a few more days to consider surrender after the first blast (and the Soviets' declaration of war). Kurt Vonnegut Jr. once said in an interview that the "nastiest act by this country, after human slavery, was the bombing of Nagasaki."
But Nagasaki was "forgotten" from the very start, thanks to a blatant act of press censorship.
Read full story here
August 9 2010
The US tank crew wanted for murder
The Spanish government wants a three-man US army tank crew to stand trial for the death of cameraman Jose Couso in Baghdad in 2003.
High Court judge Santiago Pedraz has issued three international arrest warrants for the soldiers after they fired at the Telecinco employee, fatally wounding him.
The judge is confident that Barack Obama's administration will want to co-operate with the investigation. But while Washington is quick to criticise other nations' non-compliance with what it deems justice, it has no enthusiasm for handing over its citizens to be subject to foreign justice systems - just ask the people of Bhopal.
Read full story
here
August 9 2010
The Suffering of Fallujah
And so it turns out that there were weapons of mass destruction in Iraq, though not until we arrived and started using them.
Along with whatever else we did to Fallujah exacted collective punishment on a defiant city (a war crime) in November 2004, killed thousands of civilians, shattered the infrastructure (nearly six years later, the sewage system hasn't been repaired and waste flows in the streets) -- we also, apparently, nuked the city, leaving a legacy of cancer, leukemia, infant mortality and genetic abnormality.
Freedom isn't free. Remember when that was the go-to phrase of the citizen war zealots among us, their all-purpose rebuttal when those of us appalled by this insane war cited civilian casualty stats? Discussion over. Thought stops here.
Read full story
here
August 9 2010
The Big Lie: Venezuela and Labor



The biggest obstacle to the attempt first by the Bush Administration, and now by the Obama Administration, to achieve passage of the long-stalled Free Trade Agreement with Colombia is that country's long-standing shameful reality as "the most dangerous country in the world for trade unionists," to use the words of the International Trade Union Confederation (ITUC), the largest union confederation in the world, representing 176 million workers in 156 countries and territories.

Since 1986, over 2800 unionists have been assassinated in Colombia. The clear and ever-present danger to organized labor in Colombia is the most salient and undeniable fact about the U.S.'s favorite nation in the region.
August 9 2010
Farmers reclaim land from settlement
Aided by the Palestinian Agricultural Relief Committee, farmers from a southern West Bank village have reclaimed lands inside an illegal Israeli settlement.
Imad Ash-Shaer, 42, from Husan village, said he gave up hope 10 years ago that he would be able to farm his land, annexed by an Israeli military base at the entrance to Betar Illit settlement.
Read full story
here
August 9 2010
Guantanamo detainee set to be tried
Omar Khadr, a Canadian captured as a teenager by US troops in Afghanistan, is set to go on trial at the US military base in Guantanamo Bay, Cuba.

The hearing this week will be the first of a Guantanamo detainee before a military tribunal under Barack Obama, the US president.


US forces captured Khadr in Afghanistan in July 2002, when he was just 15 years old.

"Omar Khadr could potentially be the first child soldier to be prosecuted for war crimes in modern history," Al Jazeera's Monica Villamizar said, reporting from Guantanamo Bay.

Read full story here
August 9 2010
Contract Workers Killed at Colombia's Cerrejón Mine, Renewing Cry for Unionisation
A deadly accident killed four maintenance workers at the Carbones del Cerrejón mine complex in La Guajira department, north-eastern Colombia, on Wednesday, 4 August. The ICEM affiliated trade union at the mine, Sintracarbón, represents 3,500 direct employed workers, and has been fighting to organise many of the 4,000 outsourced at Cerrejón, Latin America's largest coal mine.

As prior ICEM reports indicated, organising efforts were countered with harassment and persecution by contractors, while Carbones del Cerrejón management refused to intervene.
Read full story
here
August 9 2010
Palestinians rally against Gaza buffer zone
The Popular Resistance Campaign marched toward Israel's no-go zone Monday in Khan Younis, southern Gaza, in protest over land confiscation and prohibited access to farm land.

The march began at the Absan Al-Jadeda village east of Khan Younis toward to the zone, with protesters waving Palestinian flags and banners denouncing Israel's ban on access to the area that it considers a live combat zone.
Read full story
here
August 8 2010
Jailed Fatah Leader Marwan Barghouthi: Talks Harm Palestinians
Charismatic imprisoned Fatah leader Marwan Barghouthi said this week that the Palestinian Authority's negotiations with Israel are counterproductive and unlikely to yield an agreement.
Barghouthi, who is considered one of Fatah's most credible and popular leaders, has been in an Israeli prison since 2002 for allegedly arranging attacks on Israelis.
Read full story
here
August 8 2010
Vanunu released after 3 months
Mordechai Vanunu, the man who spent 18 years in jail after being convicted of treason and espionage was released from Ayalon Prison in Ramle Sunday after serving a further three months.
Upon his release, Vanunu stated that he held no nuclear secrets and maintained that the Israeli government should leave him alone.
August 8 2010
Dublin - Solidarity With Sheikh Jarrah Protest
On Sunday 8th of August, on a sunny day in Dublin, around 30 members and supporters of the Ireland-Palestine Solidarity Campaign gathered at the Spire on O'Connell Street to take part in the international day of solidarity with the people of Sheikh Jarrah.
Read full story & watch video footage
here
August 8 2010
Reporters stage Mexico protest
More than 1,000 Mexican journalists have marched through the country's capital to protest the killing and disappearance of their colleagues amid escalating drug violence that is increasingly targeting reporters.

Carrying signs reading "Not one more!", they demanded protection on Saturday to do their work in a country international media groups say is one of the most dangerous for practising journalism.


"We're a little late - 64 killings late - but we've finally decided to practice our right to protest, to seek justice for our colleagues who have died or disappeared and to end the impunity for crimes against journalists," Elia Baltazar, a protest organiser and co-editor of the local newspaper Excelsior, told the Associated Press.

Read full story here
August 8 2010
Displacing the Bedouin
Twice last week employees of the Israel Lands Administration, with the help of a large police contingent, demolished the homes of around 300 residents in the unrecognized Bedouin village of Al-Arakib in the Negev. Most of them, citizens of the State of Israel, including many children, were left not only without homes, but humiliated, frustrated and shocked. Both times the police were brutal, and neither time did the state offer an alternative, compensation or assistance, either material or psychological, for the people whose village was demolished and world was destroyed. That's how a country treats its citizens.
August 8 2010
Cuba's Castro addresses parliament
Fidel Castro, the former president of Cuba, has addressed the national assembly for the first time since stepping down as leader.
The ailing Castro, who remains head of the Communist Party, last made an official government appearance four years ago, before falling seriously ill and having to hand over the presidency to his brother Raul Castro
Read full story
here
August 7 2010
Israeli Troops Suppress Anti Wall Protests In The West Bank
On Friday anti wall protests were reported in the villages on Bil'in and Nil'in, central West Bank, also in the village of Artas in southern west Bank.
The villagers of Ni'lin near Ramallah in the West Bank organized their weekly nonviolent protest Friday at noon.
This week's activity was dedicated to commemorate the death of Yousef 'Amira who was killed by Israeli troops in 2008 during a nonviolent protest in the village.
August 7 2010
FARC attack Pan - American Highway
Alleged guerrillas of the FARC bombed the Pan-American highway between the southern Colombian cities of Cali and Popayan on Saturday.
Read full story
here
August 6 2010
Uribe's appointment to flotilla probe guarantees its failure
José Antonio Gutiérrez and David Landy, The Electronic Intifada, 6 August 2010


At the beginning of this month the Israeli government announced it would cooperate with one out of two international UN-sponsored investigation commissions into the 31 May Gaza Freedom Flotilla massacre, a move which UN General Secretary Ban Ki-moon claimed was "unprecedented." However, the details of this commission and who will take part in it -- particularly the notorious outgoing president of Colombia, Álvaro Uribe Vélez -- cast doubt over its impartiality.
Read full story
here
August 6 2010
Hiroshima anniversary remembered by activists

The atomic bombing of Hiroshima is being remembered in Oak Ridge, the once secret city that fueled that first nuclear weapon used in war. Today marks the 63rd anniversary of the destruction of the Japanese city, a pivotal event that helped end World War II.

August 6 2010
Choice of "investigators" into Flotilla massacre controversial, say Palestinian and Latin American rights groups
MV Mavi Marmara
Palestinian and Latin American rights campaigners in Ireland have reacted strongly to the appointment of outgoing Colombian President Alvaro Uribe Velez to one of two United Nations commissions set up to inquire into the Mavi Marmara massacre on May 31 in international waters while they approached the besieged Gaza Strip.
August 5 2010

Tony Blair Must Be Prosecuted
by John Pilger
Tony Blair must be prosecuted, not indulged like his mentor Peter Mandelson. Both have produced self-serving memoirs for which they have been paid fortunes. Blair's will appear next month and earn him £4.6 million. Now consider Britain's Proceeds of Crime Act. Blair conspired in and executed an unprovoked war of aggression against a defenseless country, which the Nuremberg judges in 1946 described as the "paramount war crime." This has caused, according to scholarly studies, the deaths of more than a million people, a figure that exceeds the Fordham University estimate of deaths in the Rwandan genocide.
Read full story
here
August 5 2010
US Interference in Venezuela Keeps Growing
Despite President Obama's promise to President Chavez that his administration wouldn't interfere in Venezuela's internal affairs, the US-funded National Endowment for Democracy (NED) is channeling millions into anti-Chavez groups.
Foreign intervention is not only executed through military force. The funding of "civil society" groups and media outlets to promote political agendas and influence the "hearts and minds" of the people is one of the more widely used mechanisms by the US government to achieve its strategic objetives.



August 5 2010
Israel destroys Bedouin village, again
Bedouin in al-Araqib attempt to rebuild their village days after it was destroyed by Israeli forces, 31 July 2010



Bulldozers returned to the village of al-Araqib in the northern Negev on Wednesday, 4 August, and demolished approximately ten new structures residents and supporters had built a week after Israeli forces completely destroyed the village on 27 July.
Hundreds of Bedouin Palestinians, who hold Israeli citizenship, were made homeless last week after Israeli police, supported by bulldozers, helicopters and busloads of cheering Israeli civilians, razed the entire village to the ground. Investigative journalist Max Blumenthal revealed that not only were Israeli civilians brought in busloads to inspirit the destruction of al-Araqib on 27 July, but Israeli youth were employed by a private security outsourcing firm to physically assist in the ethnic cleansing project itself ("A Tale of Two Summer Camps and One Dark Future, 3 August 2010).
Read full story
here
August 4 2010
Miami Five prisoner released from 'hole'
Gerardo Hernande

z
US authorities bowed to international pressure on Tuesday night and released Miami Five prisoner Gerardo Hernandez from his 3ft by 7 ft punishment cell. Mr Hernandez has now been returned to the general prison population at the Victorville high security jail in California.
Read full story
here