éirígí Chairperson Brian Leeson has condemned the thuggish behaviour of Shell security personnel and Gardai who injured a number of anti-Shell activists in Mayo earlier
today
. At least four protesters required medical attention for their injuries, whilst a number of other people suffered cuts and bruises.

One of the injured, éirígí's Joe Keegan, required stitches to a head wound following an attack by a number of IRMS personnel (IRMS are the private security firm employed by Shell in Mayo). Joe had gone to the aid of a female activist who was being manhandled by IRMS boss Jim Farrell. Another activist, Gary Ronaghan, required stitches to his mouth after he was struck by a large piece of steel fencing which was pushed at him by IRMS staff.


Leeson said, "
Today
we have seen yet another example of violence from the Gardai and Shell's hired thugs. Those who are opposed to Shell's operations in Mayo have a fundamental right to protest without fear of assault. For years that right has been deliberately and systematically suppressed by the Gardai, a fact which they haven't even tried to hide. Superintendent Joe Gannon has publicly declared that there is a 'no arrest' policy in relation to the Shell protests. Instead of arresting people the state are using brute force to facilitate Shell's robbery of the Corrib gas reserve."
Leeson continued, "The oil and gas that lies off Ireland's coast has the potential to secure Ireland's energy needs for decades to come and to address many of the financial challenges we now face. Corrib and the other oil and gas reserves belong to the people of Ireland, not to a handful of politicians in Leinster House. They don't have the right to give away that which is not theirs in the first place. Those who took part in the protests and direct actions in Mayo
today
are acting in the interests of the people of this country. For that they are to be applauded."

Leeson concluded by re-committing éirígí to the battle for Corrib:
"Through corruption, manipulation, bribery and brute force Shell have succeeded in tapping the Corrib reserve, in building their refinery in Ballinaboy and in laying their offshore pipeline. But they have not succeeded in laying the onshore section of that pipeline and without it they cannot extract the gas. We in éirígí are committed to fighting the laying of every inch of that pipeline. To fail to do so is to surrender countless billions of euro's to Shell and the other private energy companies."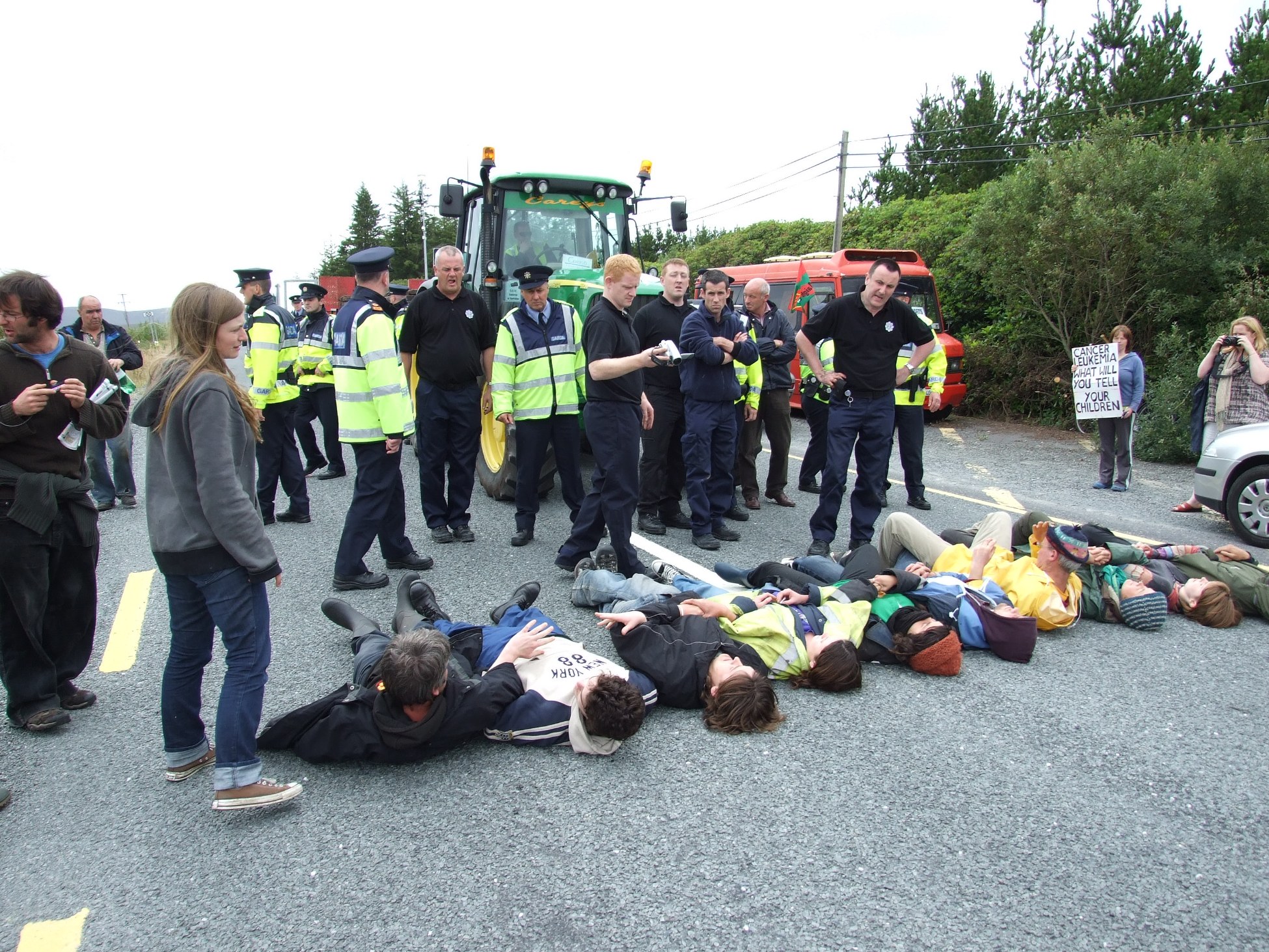 Shell to Sea Spokesperson Terence Conway also condemned the assaults on peaceful protesters.
He said: "The injuries inflicted today indicate an expectation of impunity on the part of those assaulting Shell to Sea campaigners. It is clear that individual Garda and private security personnel feel confident that serious assaults on campaigners will not lead to them being prosecuted. The level of violence we have seen today against Shell to Sea campaigners engaged in civil disobedience is confirmation of how little has changed in the policing of the Corrib project."